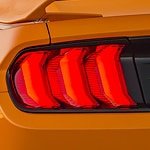 The Ford Mustang remains one of the most popular sports cars in America. That's thanks to the Mustang's incredible performance numbers. Here's a look at what you will find under the hood of the latest Mustang.
The Mustang GT continues to offer incredible V-8 power with its 5.0-liter engine that delivers an incredible 410 horsepower and up to 420 foot-pounds of torque. This makes the GT Mustangs one of the fastest vehicles that you can get at an affordable price. When it comes to Mustangs, there are a number of excellent special edition vehicles available. That includes the powerful Shelby 350GT model as well as the Shelby 500GT model. For those who want "old school" looks and top speed, there is the BULLITT edition Mustang available.
Get into the brand new Mustang of your choice at Bergey's Ford of Ambler. We have a top selection of Mustangs now on sale. Take a test drive today.