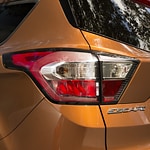 When it comes to capability, it's hard to match what the Ford Escape offers for its price. This compact SUV is designed with some of the most advanced capability features of any vehicle in its class. Here are two top capability features now available.
The Escape comes with Stop 'n Go Technology on both of its EcoBoost engines. With Stop 'n Go Technology, the vehicle is able to shut off the engine when the vehicle is at a complete stop. When the driver takes his foot off of the brake pedal, the engine starts up again. This allows the Escape to preserve fuel and extend range. The Escape also offers All-Wheel-Drive with Rear Disconnect. This system is able to disengage the all-wheel-drive system when not needed. This reduces drag and further improves fuel economy.
Get into a brand new Ford Escape today. Take a test drive at Bergey's Ford of Ambler. We'll offer you a top purchase or lease deal.