Critics and customers agree that new Ford EVs like the F-150 Lightning and Mustang Mach-E are some of the most head-turning, cutting-edge new SUVs and trucks for sale in Pennsylvania. These new Ford electric cars promise excellent range, modern technology and thrilling performance, and one test-drive is enough to realize that they indeed deliver on the superlatives so often showered upon them. For shoppers, this means that there's never been a better time to buy an electric or hybrid Ford in Pennsylvania. To get started, visit our showroom today to review EV tax incentives, learn about MPGe ratings, or to compare electric vs. hybrid cars. Your electrified future starts now at our Ford dealership near Plymouth Meeting.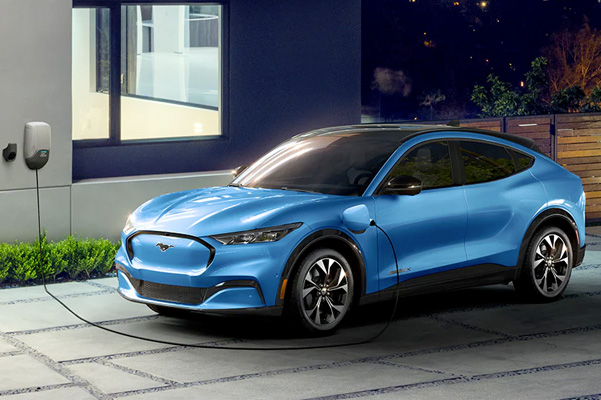 Which Ford Models Are Hybrids?
In response to enthusiastic customer support for new cars with great mpg ratings, Ford now has a wide array of hybrid models for sale. One of the most popular options is the affordable new Maverick, a compact pickup that comes standard with a hybrid powertrain good for up to 42 city mpg. An F-150 Hybrid, for sale in Ambler, is also adept at blending great gas mileage with classic F-150 towing capacity, cargo room and payload ratings. Need a family hauler? The Escape Hybrid and Explorer Hybrid are also available, as is an Escape Plug-In Hybrid. Find all these and more at our nearby Ford dealership.
What Are the Ford EVs?
The new Ford EV lineup features three different electric models to choose from: The F-150 Lightning, the Mustang Mach-E and the E-Transit. An F-150 Lightning boasts smooth and quiet performance and can be equipped with several advanced technologies, including a unique Pro Power Onboard system that can power everything from laptops to appliances. The Mustang Mach-E, on the other hand, is a family SUV that doesn't forget its Pony car roots; its serious performance and cutting-edge Ford electric vehicle technology have made this a local favorite. And if you want to buy an EV Ford work van nearby, the E-Transit is for you.
What's the Difference Between Hybrids and EVs?
Quite simply, an EV is any vehicle that is solely powered by an electric motor and battery, while a hybrid vehicle combines an electric motor with a gas engine to offer excellent fuel economy. The middle ground between these two options is a plug-in hybrid, which can briefly operate on just electricity. Once the electric range is fully depleted, the gas engine takes over until you can plug in and recharge the battery.
How Do I Charge My Ford EV?
All Ford EVs can be charged at home or at one of the countless electric car charging stations in PA, as well as those available all across the country. To charge from the comfort of home, you can use the Ford Mobile Power Cord that comes standard on the F-150 Lightning and Mustang Mach-E. For faster charging, the Mustang Mach-E offers an available Ford Connected Charge Station. Plymouth Meeting F-150 Lightning owners whose trucks feature the standard-range battery can choose to upgrade to the Ford Charge Station Pro.